Click on image to zoom in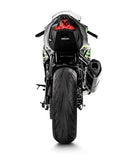 Akrapovic Racing Line Carbon Full Exhaust '09-'23 Kawasaki ZX6R, '13-'23 ZX6R 636
The Racing Line represents a full step in the exhaust systemtuning process and offers a great balance between price and optimum performance. Racing performance exhaust systems are designed for riders that demand maximum performance from their motorcycle. The systems are lightercompared to the stock exhaust system and feature exceptional production quality and increased engine performance combined with pure racing sound output. A combination of racing materials like carbon fibre for the muffler outer sleeve and for the end cap give these exhaust systems a racing touch.
THIS PRODUCT DOES NOT MEET EMISSION COMPLIANCE REQUIREMENTS FOR STREET OR HIGHWAY USE.
Payment & Security
Your payment information is processed securely. We do not store credit card details nor have access to your credit card information.