Click on image to zoom in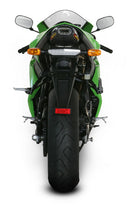 Akrapovic Slip-On Line (Titanium) EC Type Approval Exhaust System 2007-2008 Kawasaki ZX-6R
Measurements of the Akrapovic SLIP-ON system on the KAWASAKI ZX 6-R (without noise damper):
Power & Torque: Akrapovic power curve follows the stock curve up to 6000 rpm, and then shows an noticeable increase which extends right into the overrev range. The ZX 6-R receives 117,8 HP at 14325 rpm, which is 3 HP more than with stock exhaust system. The torque curve is increased throughout the entire rpm range and gives more easy to drive engine characteristics.
Performance
measured on SuperFlow Cycle Dyn

Stock
Akrapovic
Max. increased power

Max. rear wheel power

(HP / rpm)
114.9 / 14200
117.8 / 14325

3 / 14325
Payment & Security
Your payment information is processed securely. We do not store credit card details nor have access to your credit card information.