Click on image to zoom in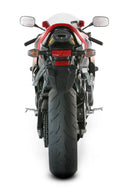 Akrapovic Slip-On Line (Titanium) EC Type Approval Exhaust System For 2007-2008 Honda CBR600RR
PERFORMANCE
Measurements of the Akrapovic SLIP-ON system on the HONDA CBR 600 RR (without noise damper):
Power & Torque: the system follows the stock power curve at the low end of the rpm range. From 6000 rpm on, the Akrapovic Slip-On adds a significant increase in power, all the way up to the top of the rpm range. The torque increase is spread throughout the entire rpm range
Performance
measured on SuperFlow Cycle Dyn

Stock
Akrapovic
Max. increased power

Max. rear wheel power

(HP / rpm)
107.8 / 14150
110 / 13750
2.2 / 14000


Payment & Security
Your payment information is processed securely. We do not store credit card details nor have access to your credit card information.