Click on image to zoom in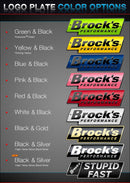 Brocks Performance 12" Alien Head 2 Ultra-Light SS Full Exhaust System '16-'20 Honda GROM MSX125
The Alien Head™ Exhaust System combines our legendary race-proven performance with the distinctive look and sound of our Alien Head™ muffler. Our most popular exhaust system, Brock personally designed and hand-tuned the Alien Head™ Full Exhaust System to find the ideal balance of performance and attitude. Keeping our creative Grom owners in mind, this low-mount exhaust option was designed to tuck up tight along the engine to provide the most ground clearance available. Now you can stretch and lower your Grom without being restricted by your exhaust.
Features:
12" megaphone muffler
Maximized power gains on stock and modified engines
2" outlet permanent baffle (glass wool/fiberglass) for long life, deep sound
Larger diameter outlet provides increased exhaust flow
Distinctive look/aggressive sound (2" optional noise reduction insertsold separately)
Pre-installed 18mm bung for wideband O2 sensor
Provides maximum ground clearance
Over 60% in weight savings
No fairing modifications required
Aerospace quality, ultra lightweight stainless construction
Note: Designed for use with OEM rearset, modification may be required for use with aftermarket rearset
Includes Brock's lifetime direct support package
At no additional charge
Includes access to Brock's map support program
At no additional charge
Payment & Security
Your payment information is processed securely. We do not store credit card details nor have access to your credit card information.