Click on image to zoom in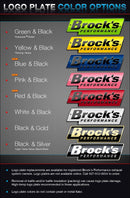 Brocks Performance 14" Alien Head 2 Black Full Exhaust System '12-'20 Kawasaki ZX-14
The Alien Head 2™ exhaust system combines our legendary race-proven performance with the distinctive look and sound the original Alien Head™ muffler, which has become a favorite with custom builders to showcase more of today's big tire/custom swingarms. Manufactured to stringent specifications, Brock personally designed and hand-tuned the Alien Head 2™ full exhaust system to find the ideal balance of performance and attitude for the all new ZX-14R.
The Alien Head 2™ exhaust system stands as the benchmark of cutting edge power, design, and style.
* 14" megaphone muffler
* Black ceramic coated finish
* 2.25" outlet permanent baffle
* Distinctive look/Aggressive sound (2.25" optional noise reduction insert sold separately)
* No fairing modifications required
* Aerospace quality, ultra lightweight stainless construction
* Includes (Emissions/PAIR) Block Off Cap and instructions for decel-pop reduction
* 3oz. tube of Permatex Ultra Copper® supplied with exhaust system purchase
* Includes Brock's lifetime direct support package At no additional charge
2012 ZX-14R Exhaust Weight Comparison
OEM Exhaust System:
* Front Section: 8.8 lbs.
* Right Muffler: 16.25 lbs.
* Left Muffler: 16.00 lbs
Total = 41.05 lbs.
Brock's Performance Alien Head 2™ Full System:
* Front Section: 5.45 lbs.
* Flanges: 1.05 lbs.
* Muffler: 3.1 lbs.
Total = 9.60 lbs.
Total Weight Savings = 31.45 lbs. or 76% of stock weight
Payment & Security
Your payment information is processed securely. We do not store credit card details nor have access to your credit card information.