Click on image to zoom in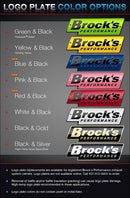 Brocks Performance 17" CT Megaphone Full Titanium Exhaust System '10-'14 BMW S1000RR/HP4
The system that shocked the world, as seen on YouTube when Ryan Schnitz ran an incredible 8.49@158 MPH. Not only a straight liner's dream, the CT Meg™ is just as 'at home' carving up back roads or prowling a local bike night. The CT Series™ full titanium exhaust system developed by Brock Davidson is a direct result of incalculable hours of designing, prototyping and evaluating prior to the approval of a working model. The whole exhaust system weighs as little as 8 1/4 lbs. and at the same time boosts horsepower by allowing a more efficient air flow. The CT Series™ not only gives you superb cornering clearance, but if you are a weekend drag racer, the system provides unmatched ground clearance to give you maximum lowering ability for mind-numbing acceleration. Mufflers are available in natural finish or with gradient anodized flames for an unmistakable custom look.
Features:
* Full Titanium construction with Carbon Fiber tip
* Superior craftsmanship, fit, and finish Low "throaty" tone is great for everyday riding (noise reduction insert available)
* Lightweight systems weigh as little as 8 1/4 lbs.
* Two 12mm O2 bungs pre-installed on headers and one 18mm bung for wideband O2 sensor
* Installation hardware and instructions included
* Includes (Emissions/PAIR) Block Off Cap and instructions for decel-pop reduction
* Includes Brock's lifetime direct support package At no additional charge
* Select from increased drivability/fuel mileage (pump gas) or race-proven (race fuel) trackmaps via Brock's map support program At no additional charge
Payment & Security
Your payment information is processed securely. We do not store credit card details nor have access to your credit card information.