Click on image to zoom in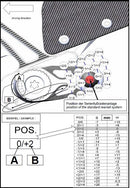 Gilles Tooling MUE2 Adjustable Rearsets '15-'20 Yamaha R1/M/S
New generation of rearsets from Gilles Tooling! Futuristic design meets simplified adjustability. Unique feature of the MUE2 Rearset is that the footpegs are positioned by a single point combination adjuster, which allows you to slide and rotate the footpeg to desired location for fast, precise, and repeatable results.
Combining innovative style, lightweight, and full adjustability, these high quality MUE2 Rearsets by Gilles Tooling will look great on your bike and feel great under your feet.
Fast footpeg positioning via combination sliding/rotating adjuster
5 sliding positions, 4 rotating positions
Standard or GP shift (conversion to GP shift done by simple swapping of shift rod position)
Double ball bearings on brake and shift levers provide ultra smooth operation
Carbon heel guards
Unique gilles tooling design
Payment & Security
Your payment information is processed securely. We do not store credit card details nor have access to your credit card information.