Click on image to zoom in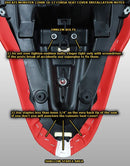 LuiMoto Corsa Seat Covers '16-'18 Ducati Monster 1200R
The Ducati Monster 1200R Corsa Seat Cover is designed for high performance riding. All of Luimoto's technical elements were essential in creating our highest performance product. The Tec-grip top panel provides proven control to prevent unwanted slipping during acceleration, hard braking, and carving corners. The addition of synthetic suede, carbon fiber, leather look materials provide an exclusive design and cowl look. Stand out on the street and track with Luimoto!
Installation Notes:
Do not over tighten emblem bolts. Finger tight only with screwdriver.
Use staples less than 6mm (1/4") on the very back tip of the seat. If you don't you will puncture the Luimoto Seat Cover!
This item is made to order. Please allow approximately 1 - 2 weeks for manufacturing We are selling motorcycle seat covers not the entire seat plastic with foam Seat Covers can be customized for a small fee.
Payment & Security
Your payment information is processed securely. We do not store credit card details nor have access to your credit card information.