Click on image to zoom in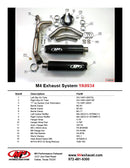 M4 Cat Eliminator Slip On  Exhaust System '09-'14 Yamaha R1
For 2009, yamaha made a radical change to the popular R1 with their new "Big Bang" motor. M4 has gone to work to offer an exhaust system that lowers weight, increases horsepower and gives a more aggressicve look. We offer undertail slip ons in either carbon fiber or titanium.
This slip on comes with dual carbon fiber canisters and eliminates the stock catalytic converter. Saves 5lbs over stock and produces 5 more horsepower. Comes with O2 bung and adapter for running the stock O2 sensor or aftermarket O2 sensors.
Payment & Security
Your payment information is processed securely. We do not store credit card details nor have access to your credit card information.