Click on image to zoom in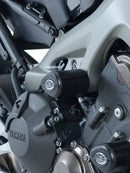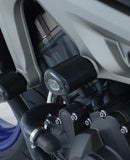 R&G Aero Mid-Mount Frame Sliders Yamaha FZ/MT/FJ-09 '13-'20 / Tracer 900 GT / XSR900 '16-'20
R&G Racing industry leading crash protectors are now available for the Yamaha MT-09 / FZ-09 / XSR900 / FJ-09, installing into the existing middle engine/frame mounts, they offer essential protection to the bike frame, fairing, engine and radiator keeping them raised up and away from the tarmac in the event of a crash or drop.
This kit requires NO modification to install, installing into the front frame mount.
R&G Aero Bobbins are a stylish, aerodynamic, teardrop shaped bobbin improving on the original good looks of our highly successful and popular standard round bobbins. Fitted with a removable end cap which hides the bobbins fittings, this sleek new design looks superb and is a winner on road and track!
R&G Aero Bobbins from R&G Racing - the market leaders in crash protection and the only insurance approved crash protectors on the market. As used by some of the worlds top race teams, what better endorsement do you need! R&G Racing – innovation not imitation!
Fitments:
FZ-09 '13-'20
MT-09 '13-'20
MT-09 SP '18-'19
MT-09 Sport Tracker '15-'16
MT-09 Street Rally '15-'16
MT-09 Tracer '16-'18
FJ-09 '15-'18
Tracer 900 GT '18-'20
XSR900 '16-'20
Payment & Security
Your payment information is processed securely. We do not store credit card details nor have access to your credit card information.