Click on image to zoom in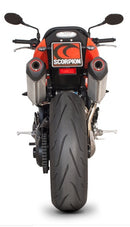 Scorpion Serket Parallel Slip-on Exhaust System '05-'10 Triumph Speed Triple 1050
Headline features include a unique precision formed 6 facet profile and an Aerospace derived multi composite 'Claw Contoured'' outlet. Additionally Serket features a tempered / fused sleeve seam with compression coined ends and a GP Style double spring mount.
* Plug and play / Easy-fit cans
* Lifetime guarantee No remapping of electronics
* Damage the exhaust and get one at half MSRP
* No repacking of exhaust
* Complies with California Air Resources Board
* Available with carbon or titanium canister
Payment & Security
Your payment information is processed securely. We do not store credit card details nor have access to your credit card information.