Click on image to zoom in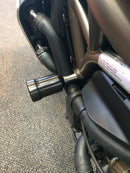 SpeedyMoto Frame Slider Kit for Ducati
The SpeedyMoto frame slider kit includes an extremely durable chromoly steel engine bolt. Precision-ground, thread-formed and quenched and tempered to an aircraft grade tensile strength of 185,000 psi, our bolt far surpasses OEM specs (as well as other manufactures) in both strength and wearability.
We employ stainless steel for the integral engine nuts and slider support, not unlike the high-strength engine bolts used by Ducati race teams. Corrosion resistant and strain-hardened stainless steel is ideal for the crucial applications of holding your motor in, supporting the entire chassis, and providing a reliable platform for the actual slider.
SpeedyMoto uses Ultra High Molecular Weight (UHMW) plastic for the slider puck. Unlike other plastics, the unbelievably low friction coefficient of this plastic makes it practically glide on the pavement. By using this material the risk of 'grabbing' is reduced, avoiding turning a smooth lowside into the dreaded catastrophic highside.
** Note: These models 748, 748S, 996, 996S may require a smaller race battery.
** Note: These models 749, 749 Dark, Supersport/Sport 620, 750, 800, 900, 1000 may require removal of the emissions evap charcoal canister for off road use only.
Payment & Security
Your payment information is processed securely. We do not store credit card details nor have access to your credit card information.