Click on image to zoom in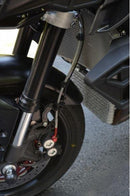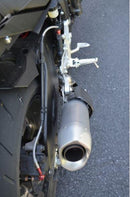 Spiegler Stainless Steel Brake Lines Kit '16-'20 Yamaha FZ-10/MT-10 ABS
ABS Brake line kit including all front and rear brake lines. Original routing. Our brake lines run all the way through from the master cylinder to the ABS and from the ABS to the calipers. We are only using 1x 3-way manifold in order to split the line up to the left and right caliper. This makes for a safer install with less connections and better performance.
Weight savings with our Spiegler brake line kit is 1.2 lbs over the stock lines. That is a solid 40% weight reduction for the brake lines!
Mounting instructions are included.
All line kits come with everything you need for a direct replacement. If your kit does not list the banjo bolts included and you would like to add some to your order, please view our Brake Line Accessories page. If it does not say in the product specification 'ABS', than the line kit is not for an ABS model. All of our line kits are made to US-model specifications. If you have a non US model bike it is your responsibility to insure fitment.
If you want to add banjo bolts to this kit you would need 5x M10x1.25 banjo bolts for the calipers and master cylinder. The ABS unit (hidden) works fine with the OE banjo bolts but if you want to go all out choose the M10x1.00 banjo bolts for the ABS unit.
Payment & Security
Your payment information is processed securely. We do not store credit card details nor have access to your credit card information.